24/32 CONTESTANT | 12/16 ACTS | 1 WINNING COUPLE
STRICTLY DANCE FUNDRAISERS
WHICH COUPLE WILL BE CROWNED CHAMPIONS?
RAISE €60,000 IN PROFIT FOR YOUR CLUB, SCHOOL, OR CHARITY!
Based on the concept of the Hit TV Show our adaptation, Strictly Dance Fundraiser, gives your Members and Supporters the opportunity to take to the stage and perform a Big Stage Dance Routine. Waltz, Salsa, Charleston – we can cater for all different age groups and Personalities within the Club/Organisation to ensure everyone can get involved. Once you have your Contestants, they will train for 6 Weeks to prepare a Group Dance and their own Individual Performance. The Parings/Launch Night will take place after Week 2 Training Session where we will pair the Guys and Girls for the most suitable Routines.
This is an Event at your Club or Local Pub which really adds to the PR and BUZZ of the Event. Our Stylists will advise on all Costumes and Accessories required. This is a great opportunity for Members and Supporters to get involved in this High-Class Professional Production. For some it will be a once in a lifetime opportunity to get Involved, Train, and Perform in a Big Stage Production. The events bring the entire Community and Club/Organisation together, and most importantly is a GREAT FUNDRAISER. Contestants have a much greater chance of winning by raising more monies for the Club! There are several themes for this type of Event including Strictly at the Movies and Strictly Musicals.
The event is based on 24/32 Contestant's, with 12 (Min) to 16 (Max) Acts. Fundraising will consist of a mixture of Club Fundraising including Main/Premium Sponsors, Act Sponsors, and Advertisements in the Booklet and Contestant Fundraising including Contestant Sponsors, Sponsorship Cards, and Ticket Sales. The Winning Act on the night will be more likely to come from Successful Fundraising Contestants so this is very well incentivised for Fundraising for the Club. Usually, a target of 750 Ticket Sales would be in place and a suitable Venue to cater for these numbers. Please see our Revenue Streams brochure for more information on Fundraising Revenue Potential from this Event.
Cheque presentation  for Strictly Blackhall, who raised €51,274 Profit for The Alzheimer Society of Ireland. 
Congratulations to all involved!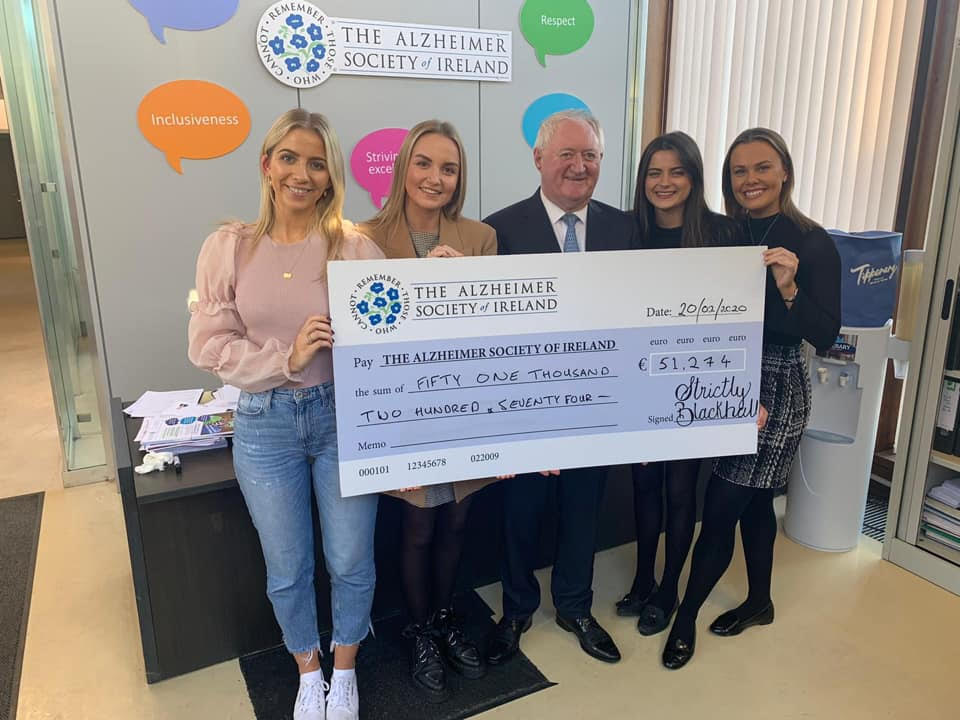 Book Strictly Dance Fundraiser
If you would like more information about Fundraising Events Ltd or any of the services we provide, please do not hesitate to get in contact with our experienced staff who will happily deal with your enquiry in a fast and efficient manner.
Alternatively, you can contact us using the Strictly Dance Enquiry form on the right. We will do our best to reply to you within the same business day.
Tel:
01-8343300
Email:
info@fundraisingevents.ie
Web:
www.fundraisingevents.ie